Benefits of Dental Implants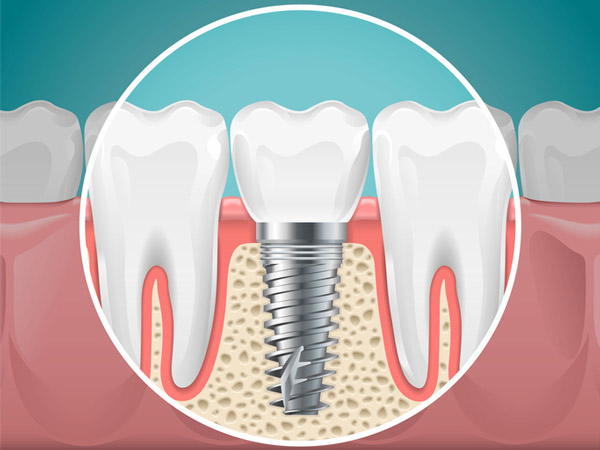 Dental implants are essentially artificial tooth roots that are typically made from titanium. They are surgically implanted into your jawbone underneath your gums. Once stabilized, replacement teeth can be positioned and secured onto them. If you have experienced tooth loss or believe you need severely decayed or diseased teeth extracted, Wheaton Oral Surgery can help you determine the best treatment option for your needs.


Who Is a Good Candidate for Dental Implants?

First and foremost, healthy gums and adequate bone tissue are required for being a candidate for dental implants. Many times, patients who are curious about dental implants to treat tooth loss have had missing teeth for quite some time. When teeth are absent for long periods of time, your jawbone starts to deteriorate due to a lack of stimulation that tooth roots used to provide. Although, there are other dental procedures that can be performed to get your mouth ready for implants if this is the case.


What Are the Benefits of Dental Implants?

Dental implants have become a commonly preferred treatment for tooth loss and offer many benefits.


Natural Feel

Implants are the next best replacement for your natural teeth. Not only are they stable and strong, but they also fit, function, and feel like normal teeth.


Improved Appearance

It's not uncommon for patients with multiple missing teeth to experience facial collapse that gives a sunken look to their face. Not only will your smile be improved with dental implants, but the shape of your face will have a more attractive and normal appearance.


Boosted Confidence

Getting your teeth restored will make you feel more confident in your smile and your overall appearance. Many patients say that their self-esteem has benefitted from having dental implants.


Healthier Jawbone

A big health advantage with implants is that they help keep your mouth firm and strong by preserving and stimulating the jawbone. This encourages new bone growth and helps prevent bone loss.


Better Speech

Unlike ill-fitting, removable dentures, dental implants won't slip around in your mouth. This means you'll be able to better articulate your speech without slurring or mumbling.


Permanence

We will secure dental implants in your mouth for good. In other words, your teeth are stabilized where they belong, making for permanently improved chewing and speech.


Comfort

Because dental implants are a permanent fixture, they are just as comfortable as natural teeth. The discomfort associated with dentures is not a factor with implants.


Low-Maintenance

Although you won't have to worry about cavities in your replacement teeth, there is still the need for basic maintenance. This includes good personal oral care and routine professional cleanings.


Improved Eating

Eating with dentures can mean slipping and sliding that makes chewing difficult. In fact, those with dentures often avoid certain foods. This worry is removed with implants, so you can eat anything you wish.


Better Nutrition

Since you won't have to eliminate certain foods from your diet with dental implants, you can cover all your food groups. This includes foods you might have to avoid with dentures, such as fresh fruits and vegetables.

Installing dental implants is a routine procedure at Wheaton Oral Surgery. We love restoring patients' teeth to improve their quality of life and self-confidence. For more information about dental implants, give us a call at (331) 204-0314.