Dental Implants Naperville IL



At Wheaton Oral Surgery, we offer several implant-related treatments to replace one or more missing teeth.

We specialize in implant treatment because we believe that dental implants are the ideal solution for tooth loss. Dr. Scherer, our board certified oral surgeon, is a specialist you can trust for any and all dental implant procedures and options.

Contact our Naperville, IL office today to schedule an appointment or to discuss any of the following services.


What Is a Dental Implant?

A dental implant is a titanium screw that we surgically embed deep into the jawbone.

Once the implant is in place, it will slowly fuse to your jaw through the process of osseointegration.

Osseointegration is the natural process in which living bone fuses with a dental implant, resulting in a stable foundation for a dental restoration. This process involves the formation of a strong bond between the titanium implant and the surrounding jawbone, which can take several months.

After this healing period, the implant screw will be able to support a restoration such as a single crown, a partial bridge, or a full-arch restoration.


Full arch dental implants are designed to provide dental implants for those missing an entire arch of teeth, but have too little bone mass to support a traditional implant supported denture.

The success is not in the number of implants but their strategic placement. Two implants are placed vertically at the front of the jaw, where there is naturally more bone mass. The other two (or more) implants are placed toward the back of the jaw.

These implants are placed one on each side and are implanted at a 45-degree angle. The angle helps to maximize contact between existing bone mass and implant, increasing your chances for implant success.


We offer the All-on-4 treatment concept for patients missing all or most of their teeth. As the name suggests, this full-arch restoration only uses four implants to support the entire bridge.

The posterior (back) implants are placed at an angle to utilize the strongest part of the jawbone.

Other full-arch restorations usually require six to eight implants. Thanks to the revolutionary new technique, All-on-4 is much more effective and minimally-invasive than other options.


Dental implants are the next best thing to your natural teeth. This makes implants a more convenient, durable, secure, and aesthetically pleasing option over traditional restorations.

The numerous benefits of dental implants have made them the industry standard for tooth replacement!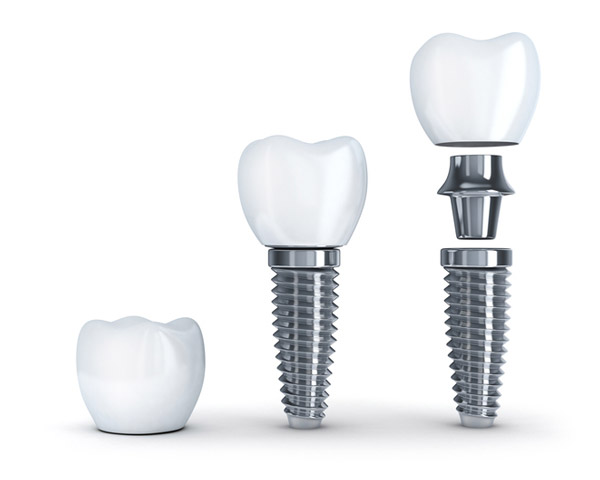 An implant-supported denture is a better alternative to traditional dentures for several reasons
| | |
| --- | --- |
| • | First of all, implant supported dentures are more stable and secure restorations because they are firmly anchored to the implants. |
| • | Secondly, implant-supported dentures offer greater chewing efficiency, as they distribute the biting and chewing forces more evenly across the jawbone. This can improve the patient's ability to eat a wider range of foods. |
| • | Lastly, implant-supported dentures can be more comfortable and convenient than traditional dentures. They are low maintenance to care for, and are more aesthetically pleasing, because they are custom-made to fit the patient's mouth and can be designed to look and feel like natural teeth. |


A ridge augmentation procedure is a type of dental surgery that is often used to prepare patients for dental implants. It involves adding bone or bone-like material to the jawbone ridge in areas where it has deteriorated. Then the jawbone will be strong enough to support dental implants.

The bone grafting material is typically taken from the patient's own body or from a donor source. In many ways, ride augmentation allows patients to receive dental implants when it would otherwise be impossible.


If you are in good oral and overall health, you should qualify for implant treatment.

If you have experienced significant bone deterioration due to tooth loss, you may need a bone graft or a ridge augmentation procedure first.

During your consultation, Dr. Scherer will be able to determine if implants are right for you. This usually involves a series of diagnostic tests that may include digital x-rays and CBCT scans.


Still Have Questions?

Please visit our page on FAQ's about dental implants for more information about how to take care of your dental implants after surgery, whether or not the procedure is painful, and more!

Learn more about Dr. Scherer here.


Schedule a Consultation with Your Naperville Oral Surgeon Today!

Find out if dental implants are right for you! Call (331) 204-0314 to schedule your consultation appointment today!